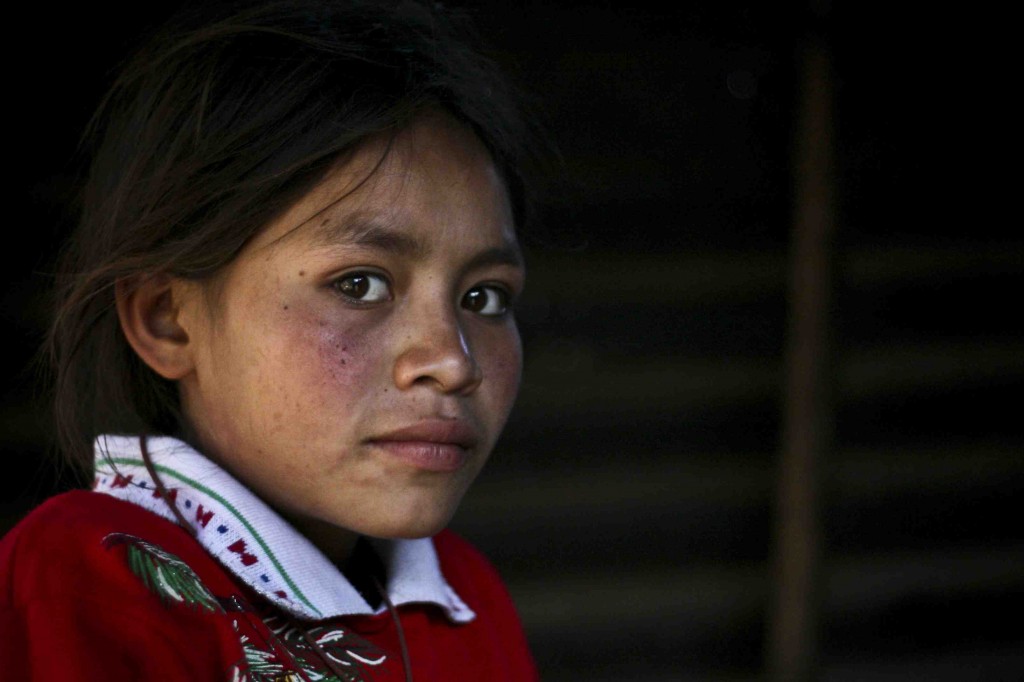 Every April, I write my 12th grade English teacher a letter. This is the letter I sent her this year, which my teacher, Mrs. Dietz, ended up publishing in the school paper. Whenever I am about to do something unkind (like every two minutes), I think back to the story detailed in the letter. Following the same vein, is a poem written after a day spent with kids in a garbage dump in Guatemala. The New England School of Photography's Tayler Aubin was there to snap some pictures.
Dear Mrs. Dietz,
I tried to address this letter "Dear Nancy," but it just did not look right to me. Even though you have given me permission to call you Nancy, I'm afraid you will always be Mrs. Dietz to me.
As you start your spring, we south of the border are gearing up for another five months of rain. Hopefully, I will be making a trip to Bismarck in the next few months. Preferably this will be soon enough for there to still be a bit of spring in the air. Summer is nice, but I've had four continuous years of it and could use some variety.
…I am going to share a story with you so that you can share it with your students. It is a story that I wish I had heard back in my rabble-rousing high school days.
Two years ago one of our social workers discovered six siblings living in a garbage dump outside of a village called Ciudad Vieja. This garbage dump was as close to hell on Earth as any place can be. Looming above it was an active volcano. A fine layer of ash fell like snow from its frequent eruptions.
In the garbage dump, the volcano was not the only thing that burned. Decades of garbage lay in enormous mountains. Trapped gasses ignited underground fires, which caused a thick, chemical smoke to hang heavy in the air.
Amongst the waste, carcasses of household pets decayed and emitted putrid smells while flies swarmed and swarmed and swarmed. In the torrent of this oppressive environment, there were also people. Little boys and girls climbed the mountains of burning garbage looking for food. They spent twelve hours every day scouring these mounds of waste in search of a way to stay alive.
As is our mission, we worked to get six siblings out of that environment. After putting the right pieces in place, we managed to find them a place to live and enrolled them in classes at one of our schools. Each student was given new clothes to wear and school supplies.
For two weeks, it seemed as though we had succeeded. But then, all six stopped showing up to school. We could not find them in their new homes. We went back to the garbage dump and sure enough, there they were.
It leads one to ask the question, "Why would any sane person choose a life in hell over a dignified house, and the chance for a good education?" We soon found out the answer.
In the hustle and bustle of getting these kids out of the dump and into new clothes, one of the girls slipped through the cracks and did not receive a new pair of shoes. Her name was Carmen. Carmen wore a pair of ragged shoes that she had found in the garbage dump. During her second week of school another girl noticed these shoes and made fun of her. She laughed at her for having such shabby shoes. Others joined in and made fun of her shoes.
Carmen had lived her whole life in a garbage dump. The social pressure of being made fun of for her shoes was new and completely dislodging for her. It was too much for her to take. She decided to leave school and return to the dump. At least in the dump no one made fun of her. She was the eldest sibling, and her brothers and sisters decided that if she was going to return to the garbage dump, then they were all going to return together.
This story does have a happy ending. In the end we were able to convince the children to return to school where they remain today. As I write this letter, they are studying in a classroom 100 feet away.
I tell you this story and ask you to share it with your students for this reason. Six people's lives were almost destroyed because of one unkind comment. All the girl who made the comment did was make fun of another girl's shoes. Surely all of us have done worse. I know I have. If asked why she did it, I'm sure she would say something we hear all too often: "It was just a joke." The girl likely could never have imagined how far the negative consequences of that "joke" could have reached. But that joke almost destroyed the life of six children. Children in garbage dumps don't survive long. If their health does not give out by the time they reach adolescents, exploiters or human traffickers prey on them.
Though we will never fully know how far our unkind and kind acts will reach, I believe that both reach further than any of us could ever imagine. Every day we are presented with a thousand opportunities to choose kindness or unkindness.
I no longer believe in trivial acts. Everything we do carries enormous weight. Everything we do has repercussions that will last long after we have left this Earth. If we look at the world like this, I think it becomes nearly impossible to choose unkindness over kindness.
Even though others irritate us sometimes, and almost invite nastiness, none of us know what another is going through. What we can be sure of is that everyone deserves our kindness. And we can all be thankful that life gives us limitless opportunities to give it.
So, if T.S. Eliot insists that April is the cruelest month of the year, well, maybe he just needed a hug.
Happy Spring,
GOING WITH THE GARBAGE
From the book, "iPoems for the Dolphins to Click Home About" 
Tucked away in younger years
at the dinner table of my youth,
when the food did not reach far enough,
the problem was simple and clear:
someone has taken more than their fair share.
Follow your garbage past your front door,
follow it across modern roads that yield to unraveling gravel,
follow it to the mountains of garbage burning across a wandering wild landscape,
follow it through the smoke where forms shimmer human from the haze,
where Maria and Rosa, Hernan and Jose, Julian and Julianita spend their days
plucking bottles from hell, a nickel a pound, ten pounds
a meal, a meal another day of life, another day of life
another day in hell, another day sifting through mounds of
waste: one man's trash is always another's only way.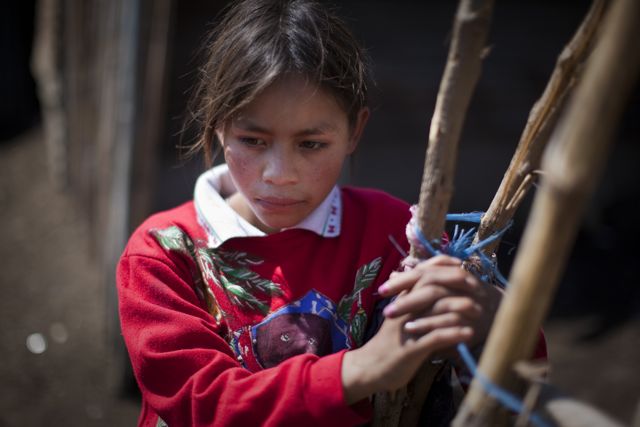 Follow your garbage to the world where house flies
truly feel at home, where they swarm in absurd abundance,
in and out of lives left low enough to touch and touch and touch and
swarm and swarm and scorn.
Underneath the warm, wet sun shining on our opulence,
shines our world's shrouded sinister sister
Maria's world.
Rosa's world.
Hernan and Jose's world.
Julian and Jualianita's world.
Follow your garbage and see a scared, scarred woman on
a worm riddled dirt floor, on a worm riddled dirt diet,
holding a bundle of malnourishment wrapped in raging rags,
barely sheltered from frequent torrential downpours,
never sheltered from what firewater does to her husband's fists,
whose bright baby eyes gave way to the indifferent grimace of one
who has grasped only grief and grime, where the flies swarm and swarm and scorn.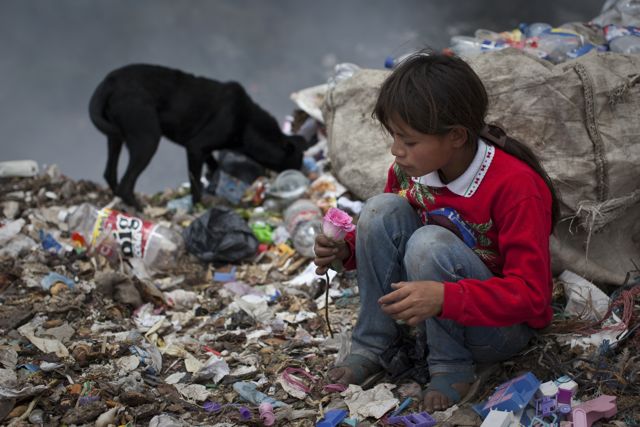 Follow your garbage and see a girl becoming a woman without
ever getting to grow, see a hope filled boy becoming another man
who inhales glue, who for once felt his pain finally blurred, whose hands stopped picking
empty cans, whose shaking hands stopped picking empty cans, whose shaking hands
reached for bottles of glue, who felt his pain lessened, who became a father, who became
indifferent, who became lost, who became a son, who became his father.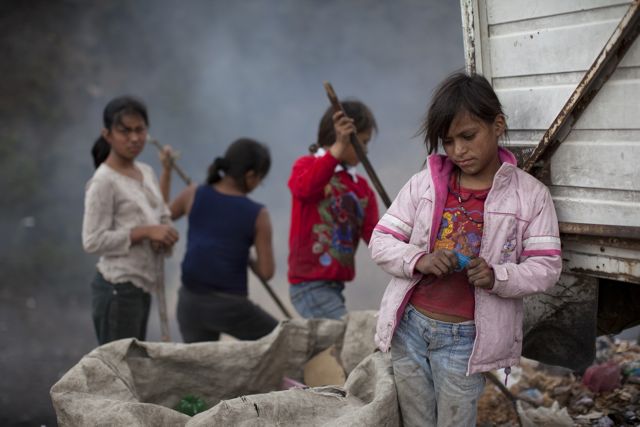 Beneath toxic smoke that will one day kill her, Rosita searches for chicken bones with little
bits of life still clinging to them, her thin fingers, those little bones and her absent smile
reaching forever into arbitrary masses of a shivery discarded world, rummaging,
plummeting, rummaging, burning, flies swarming and swarming and plummeting.
From the beach resort, to where our garbage goes, this is the world
where someone has taken more than their fair share.
See the world as an unmade bed, left undone by fallen ancestors.
How we feed our mind, who touches our heart, who we see as kin,
will decide how we make this bed, will decide who sleeps in a bed,
will decide whose bed is a garbage dump, will decide whose
job is to pick cans and die young, will decide how we sleep at night,
will decide whose bed is the ground, will decide whose mornings are hopeful,
will decide who mourns for what the curable has caused,
will decide if Rosita's downcast eyes rise, will decide if we will ever listen
To laughter from her sun loved lips, will decide how her days are numbered.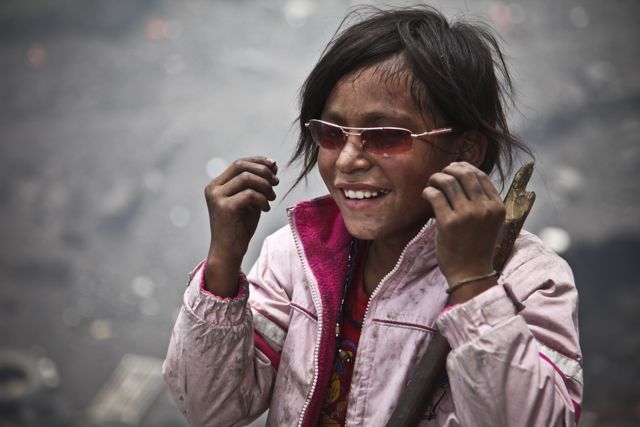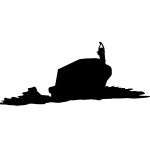 Please help this acorn of a site grow into a mighty oak. Share and repost!
www.2Points4Honesty.com