December 14, 2002
Sometimes the personality we take on tears the seams of who we are. Everyone stands by a door, and open, entering the door to find another door. No one makes it outside. All we can hope for is the courage to continue entering the next door that is encountered.
Sometimes I am nothing but a pseudo-poet trying to express in words what I am not sure I can express inside of me.
I used to know what was important in life. But I really only thought I knew. In actuality, I was behind a door, and when I opened it, I saw my whole world turned upside down. The only way of escape lies in entering the next door. I wish I knew what was important. Being on the top of the world just means a longer fall to the bottom.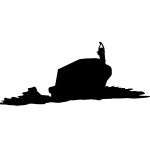 www.2Points4Honesty.com