Sat Nov 1?2?3?4?, 2002
It's been a while–Luke's #1 cliché starting phrase.
Life's been a time bomb. School's good. I got a job at Green Mill. Tomorrow is the last night for the play, "The Crucible." I am Depty Gov. Danforth in it.
I was on the planning committee for a youth rally that went great. I met some girls there who were so cool. I  really like-liked one. But they definitely live in Minot.
"Od to discontent and disillusion."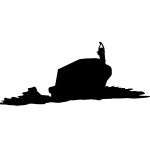 www.2Points4Honesty.com