July 10, 2002
Today I woke up at about 1:30pm and the entire day stayed at home. Mom got pissed at me today.
Band, band, band, band, how can we move head if we never practice. We really need to start practicing more. Hopefully the recording thing will start to move forward if that Jerik guy can ever get in contact with me.
I go to work tomorrow for my second day at workers comp. Friday I shall visit Mary. That should be cool.
And also…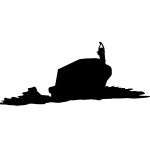 www.2Points4Honesty.com